Reverend John C. Holland    1882 – 1954
 "He started out as a newspaper boy, dreamed of becoming a minister and became the First African Canadian to be named "Citizen of the Year" in any community in Canada. We honour those who continue to work diligently in the spirit of John Holland."
Who was John Christie Holland?
Reverend John Christie Holland was born in Hamilton in 1882 to parents who escaped slavery from southern United States and made their home in Hamilton. For 33 years he worked as a railway porter (one of the few jobs opened to Black men during that time). Despite racial discrimination and bigotry, Reverend Holland worked his way up through the ranks to become head Porter and later to the position of private car attendant with the TH&B Railway. In 1924, he became an ordained Minister and served as Pastor of Hamilton's Stewart Memorial Church. The church has been designated an historic site by the Ontario government because of it's solid history and connection to the  Underground Railroad. Reverend Holland was well loved by Hamiltonians from all walks of life and in 1953 he was honored as Citizen of the Year, the first African Canadian to be given that recognition. In 2003, he was inducted (posthumously) into Hamilton's prestigious Gallery of Distinction. The Rev. John C. Holland Awards were established in 1996 as a part of Hamilton Sesquicentennial celebrations. An initiative of the Hamilton Black History Committee, these awards serve to recognize the significant contributions of African Canadians to our entire community.
The Awards
These awards were established to celebrate the rich cultural heritage of our community, with a particular focus on the contributions of African Canadians to the social, economic, and cultural life of our entire city. Since its inception in 1996, these awards have received broad support from the community. Each year hundreds of Hamiltonians join with the Black History Committee to acknowledge and celebrate excellence. These awards have become one of the premier events in our community and a valued symbol of achievement.
The 2017 Awards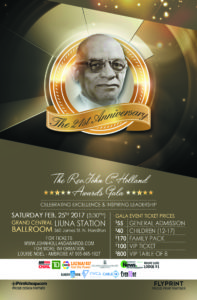 Let's celebrate this incredible milestone together
Saturday, February 25th, 2017
at Liuna Station  located at
360 James St. North, Hamilton.
Buy your tickets online or 
Call Louise at 905-865-1027 
or Marlene at 905-921-9646
Buy Tickets Now
2017 Rev. John C. Holland Awards Planning Committee
Marlene A. S. Thomas – Founder & Chair
Kathryn Wong-Crooks – Co-Chair
Administrator: Louise Noel-Ambrose
Heather Greaves
Doreen Johnson
Eleanor Rodney
Jeff Holland
Shawn Washington-Purser
Sajah Stiller
Chanélle Thomas
Kimberley Bayne